CAST ALUMINUM STATUARY FROM LIFE-SIZE TO MINIATURE
Statue-Esque offers a grand selection of cast aluminum statues in bronze and natural tones. Each piece is exquisitely designed with attention to every detail and meticulously proportioned to actual anatomy scaling. Our statues not only capture the true beauty of nature, but are skillfully crafted to be durable for all sorts of weather conditions.

Life-size statuary includes moose, elk, buffalo, rams, bear, deer and more, and horses in a selection of types.

Statue-Esque offers a variety of farm animals, plus turtles and tortoises, in a range of sizes.

From safari to swampland: Flamingos and cranes, alligators to crocodiles.

Southwest favorites include coyotes, wolves and wild hogs, cougars, iguanas and burros.

Our saguaro cactus and prickly pear are always a landscaper's favorite.

We salute every American loving patriot, especially our vets, and offer the beautiful American Eagle in many forms.

And, Statue-Esque continually strives to bring in a variety of family dog statues that customers love to display, as well as honor their pets and even memorialize them after they've passed.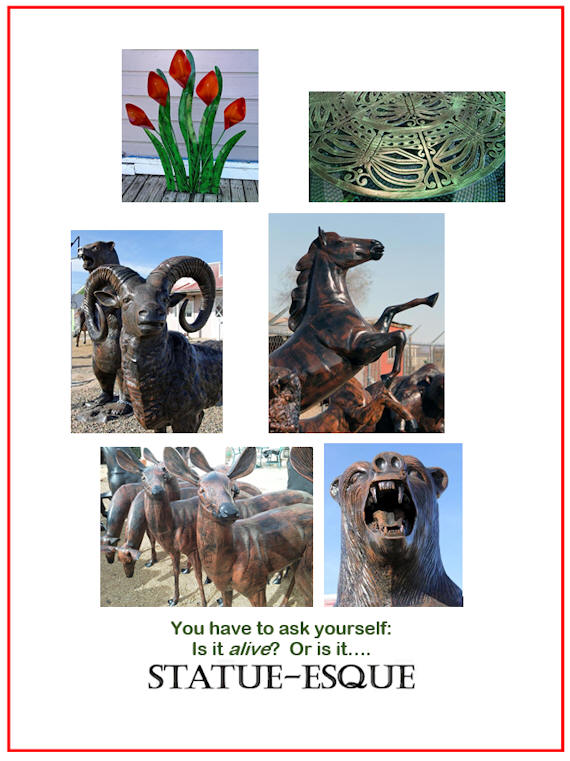 Visit us in beautiful Central Arizona, and you might likely witness... the "real thing"